Study in Shenyang Pharmaceutical University Study in http://syphu.admissions.cn
May Intake, Up to 50% Discount for Pharmacy Study

Shenyang Pharmaceutical University (SPU) , situated in the city of Shenyang, has been known for its long history and leadership in China's pharmaceutical academic field. From the time it was 1931 as the Red Army Health School until now, the university has developed into a comprehensive Pharmaceutical University, owning three campuses and covering a total of 1434,500 square meters.
SPU has 20 undergraduate programs, 5 of which are national characteristic specialties. 58 programs are entitled to the conferment of master' s degrees (with another 4 professional degree conferring entitlements) and 21 programs are entitled to the conferment of doctoral degrees. Besides, the university has two post-doctoral research stations, Pharmacy and Traditional Chinese Pharmacy. The discipline of pharmaceutics is one of the national key disciplines, while the discipline of pharmacy and traditional Chinese pharmacy is among the list of provincial key disciplines. According to ESI 2016, the university ranks 89 nationwide and 1601 worldwide. Three disciplines- - pharmacology, toxicology and pharmaceutics- - win the first at home and remain top 1% across the world.
Program:
Undergraduate student's Majors and Tuition: RMB yuan/year

Master's and Doctoral Majors and Tuition: RMB yuan/year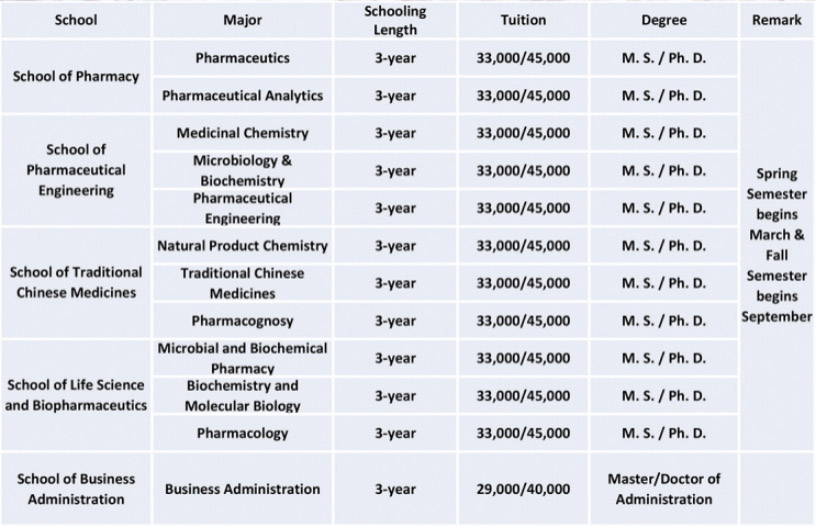 Documents Required:
Application Form
Two Recommendation letters signed by associate professors or professors (for Master and Doctor) Copy of passport
Copy of the last education degree certificate
Curriculum Vitae ( work experience owner or apply for master and doctor)
HSK Level Certificate( We can offer one Chinese language course to support you get HSK Level 4 )
Physical Examination Record for Foreigner — consult Chinese Embassy or Consulate
Scholarship
The excellent foreign students would be offered full scholarship by SPU
The excellent foreign Ph.D. student can apply for Liaoning Government Scholarship.
Excellent newly-coming students will be offered tuition fee discount up to 50% in the first year.